Chef Pandel Shows Guests How to Make Show-stopping Thanksgiving Sides (get Chef's cranberry sauce recipe)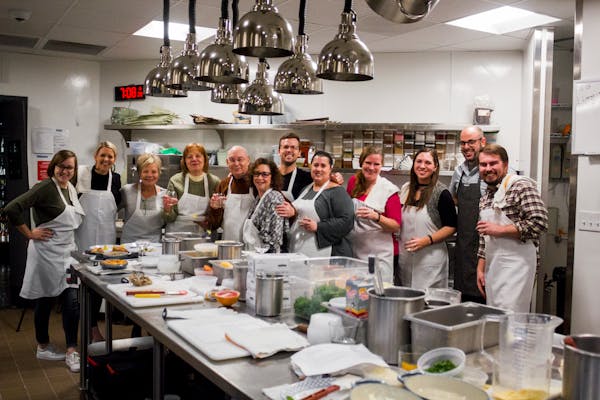 Thank you to everyone who joined us in the Dutch and Doc's kitchen on November 15 for Boka Restaurant Group's first Chef's Kitchen Series Cooking Class! Chef Chris Pandel showed guests how to prepare six show-stopping Thanksgiving side dishes: curried butternut squash and coconut soup, cranberry sauce (with a citrus twist), creamed kale, stuffing (the proper way), scalloped potatoes, and spoon bread. Champagne and small bites made the class the perfect way to get into the Thanksgiving spirit. Stay tuned for upcoming classes!
If you're finalizing your Thanksgiving menu, try Chef Pandel's cranberry sauce. Striking just the right balance of tart and sweet, this refreshing take on a traditional side dish just might steal the show.
Chef Pandel's Cranberry Sauce
Ingredients:
12 oz. (about 3 cups) fresh or frozen cranberries
3/4 cup granulated sugar
1/3 cup freshly squeezed orange juice
2 teaspoons finely grated orange zest
1 1/2 teaspoons finely grated ruby red grapefruit zest
1/2 cup ruby red grapefruit segments (medium dice)
Combine cranberries, sugar, orange juice, and both zests in a medium saucepan over medium heat, stirring until sugar is dissolved (about 5 minutes). Bring to a boil, stirring occasionally, then reduce heat to medium low and simmer until thickened and cranberries are starting to fall apart (about 20-25 minutes). Spoon into a heatproof serving bowl. Drain grapefruit segments, discarding any accumulated juices, and stir into cranberry sauce. Cool to room temperature, cover, and refrigerate until ready to serve. Serve cold or at room temperature.